Seiryo High School (清凌高校, Seiryō kōkō) is a high school attended by most of the main characters of the manga series Haru Matsu Bokura.
Girls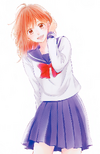 The female school uniform consists of a blue pleated skirt, long sleeve blouse attached with a blue sailor-style collar, red bow, a pair of knee-length socks and shoes.
During spring and winter, girls usually don a light colored jacket, sweater or vest; although they tend to wear white short sleeve button-up blouse attached with blue sailor-style collar during summer.
Boys
The male school uniform consists of a pair of blue trousers, blue standing collar jacket with white long sleeve button-up shirt underneath and a pair of shoes. However, many students are often seen wearing t-shirts or hoodies underneath their white uniform shirt.
During summer, students remove their jackets and wear short sleeve button-up shirts; while during spring or winter, the boys have the option of wearing additional fabrics such as sweater or vest underneath their school uniform.
School Members
Edit
Mitsuki Haruno
---
---
Class 4
Towa Asakura
---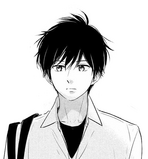 ---
Class 4
Reina Yamada
---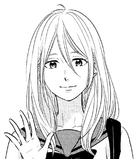 ---
Class 4
Rui Miyamoto
---
---
Class 7
Maki Sudou
---

---
Class 1
Oka
---

---
Class 4
Yoshizawa
---

---
Class 4
Kyousuke Wakamiya
---

---
Class 4
Ryuuji Tada
---

---
Class 4
Usui
---

---
?
Community content is available under
CC-BY-SA
unless otherwise noted.