Drama CD
Drama CD Information
Product Name
Haru Matsu Bokura Volume 7 Special Edition with Drama CD
Author
Anashin
Cast
Tomoyo Kurosawa Nobunaga Shimazaki
Tatsuhisa Suzuki
Sōma Saitō
Yūichirō Umehara
Toshiyuki Toyonaga
Kaori Nazuka
Mikako Komatsu
Yō Taichi
Screenplay
Deko Akao
Release Date
May 12, 2017
ISBN
9784063588460 [1]
Buy Online
www.amazon.co.jp
CDJapan
The 1st Drama CD was released on May 12, 2017 bundled with the Volume 7 special edition of the Haru Matsu Bokura series with a total cumulative sales of over 1.4 million copies. [2]
On May 24, 2017, Dessert July issue magazine included in its Appendix a Special Drama CD version of Haru Matsu Bokura. [3]
Mitsuki is a shy girl who's about to enter high school, and vows to open herself up to new friendships. Of course, the four stars of the boys' basketball team weren't exactly the friends she had in mind! Yet, when they drop by the café where she works, the five quickly hit it off. Soon she's been accidentally thrust into the spotlight, targeted by jealous girls. And will she expand her mission to include… love? [4]
Tomoyo Kurosawa
as Mitsuki Haruno
The protagonist of the series. She wanted to stop being a loner and suddenly becomes surrounded by the ikemen guys from the basketball club!

Nobunaga Shimazaki
as Towa Asakura
Mitsuki's classmate and love interest who is in the basketball club. He is quiet but always helps out Mitsuki.

Tatsuhisa Suzuki
as Aya Kamiyama
2nd year student at Hojo High School and Mitsuki's childhood friend who is actually a boy.
Sōma Saitō
as Rui Miyamoto
Mitsuki's friend who is in the same year. His innocent smile is cute, but in reality, that is just a facade?

Yūichirō Umehara
Kyousuke Wakamiya
Mitsuki's friend and upperclassman. Mysterious and cool-headed, he acts like a big brother to everyone.

Toshiyuki Toyonaga
as Ryuuji Tada
Mitsuki's friend and upperclassman. He is naughty but is somewhat naive and he only likes Nanase-san.
Kaori Nazuka
as Nanase
The daughter of the manager of the cafe and Mitsuki's co-worker. She is frank and strong-minded, and acts like a big sister to everyone.

Mikako Komatsu
as Reina Yamada Mitsuki's first female friend and classmate. She has an unusual hobby and interest.

Yō Taichi
as Maki Sudou Mitsuki's friend who is in the girls' basketball club and also likes Towa.
Tracklist
Edit
01 Opening 1:11
02 Main Story (Chapters 11 - 12) 19:09
03 "Boys Talk" Special Long Ver. 10:46
04 Cast Free Talk 14:46
05 Ending 1:15
Tracklist from Dessert Magazine July Issue 'Haru Matsu Bokura' Drama CD
Edit
Period 01 Listening Trial
Period 02 Rivalry Part 1
Period 03 Rivalry Part 2
Period 04 Aya's Holiday
Video Preview
Edit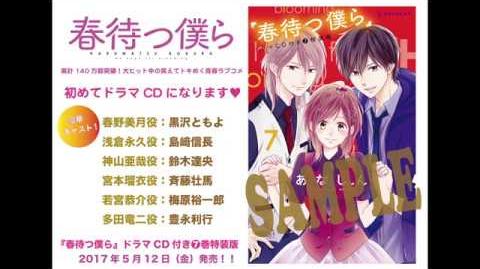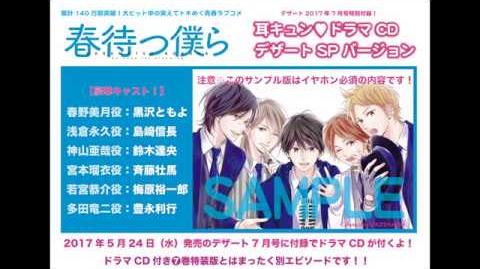 Community content is available under
CC-BY-SA
unless otherwise noted.